Pictures of Cats
Awesome Photos of Cat Breeds
A gallery of pictures of cats for cat lovers.
Our cat pictures feature different cat breeds in every pattern and color you can imagine.
Black cats, white cats, blue cats, pointed Siamese cats or unique and adorable Calico cats, our cat photo galleries feature some fine examples of them all.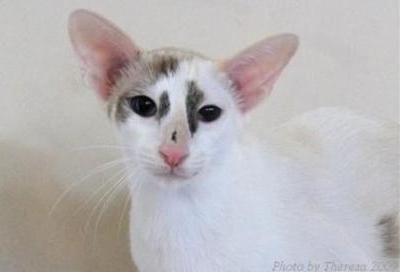 This is peak of what you will see in our cat photo galleries. This is the magnificent Taigha Samarah Dawn, a seal calico point Oriental Shorthair.
---
n to z
---
breed

Napoleon


Nebelung


Norwegian Forest


Persian


Peterbald


Pixie Bob


Ragdoll


Russian Blue


Savannah


Selkirk Rex


Siamese


Siberian Forest


Snowshoe


Somali


Sphynx


Toyger


photo gallery



---
---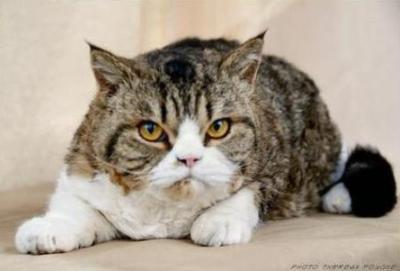 A rare Selkirk Rex. Above is one of many images we have in our galleries. Featured here is Sp Pr Avante Garde Smiling Thomas of Gaeblefield

---
The gallery above  features rare cat breeds like the Savannah and Pixie Bob - domestic cats with a touch of wild.
Naturally, no album would be complete without the well-known Siamese - our cat photos include a variety of specimens.
For the discerning cat lover our Sphynx cat pics bring new meaning to a nude photo shoot!
We also cater for those who prefer cats with a lot more hair, our cat images of longhaired cats - the pampered Persian cat and the hardy Norwegian Forest are always a hit.

---
---
---
thanks
---
Our sincere thanks to Theresa Fouche for her generous contribution to our website. Without her magnificent pictures this site would not have been possible.
We also gratefully acknowledge and thank  Sarah Thexton, Irene McCullagh, Andre Young, Robert Fox, Alan Robinson, Larry Johnson, Preston Smith, Tetsu Yamazaki and Helmi Flick and all the Cat Breeders for their enormous contribution.
Should you wish to share your cat pictures with Cat Breeds Junction, please do contact us.
We will gladly feature photographs of your special cat on our website.

---
Top of Pictures of cats