The Cat Breed Blog
The Cat Breed Blog will keep you posted whenever
* new and special postings are added
* more cat pictures are featured
* people like yourself share really excellent material (Or just use our "Contact Us" form to help us improve the content on this site)
It's easy to subscribe to the Cat Breed Blog. NO e-mail address required, no spam and dead easy to unsubscribe - just delete the feed.
Simply right-click on the orange RSS button (bottom left) and paste the URL into you RSS reader. (Don't have an RSS reader - click on "What's an RSS feed?). Or add to your personalized pages at My Yahoo!, My MSN or Google by clicking on one of the other buttons. Real Easy!
The best part of being a subscriber is that our Cat Breed Blogs are short and sweet.
Let the news come to you!
Norwegian Forest Cat Picture Gallery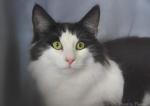 This Norwegian Forest cat picture gallery features a collection of magnificent semi-longhaired cats in a range of coat colors and patterns.