Nebelung Cat
Origin and History
The Nebelung cat was 'created' by chance.
The Nebelung history started in the early 1980's when Cora Cobb from the United States adopted a black domestic shorthair cat who was named Elsa.
In 1984, Elsa mated with a black longhaired cat. This union produced 6 beautiful kittens - an assortment of 5 blue and black shorthaired kittens and one very special little fellow - a blue longhaired kitten with features closely resembling the Russian Blue cat.
Mrs Cobb called him Siegfried.
---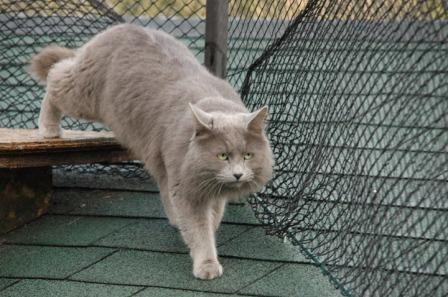 Nebelung Ciastek the Grey© Bernard Boucher of Chatterie Le Fort del la Bosse Marniere

---
During 1985, Elsa and her 'beaux' once again produced a litter of kittens - this time a litter of 7.

Amongst the litter were two longhaired kittens, one blue and the other black. The blue longhaired kitten had a beautiful silky coat. She was named Brunhilde.

Siegfried and Brunhilde were siblings and unbeknown to them the foundation cats for a future cat breed.
These two cats produced a litter of healthy kittens in 1986.
Mrs Cobb was so infatuated with her Siegfried and Brunhilde that she approached Dr Solveig Pflueger, The International Cat Association's, resident genetic specialist for assistance in developing a new cat breed.
The breed was provisionally known as the Longhaired Russian Blue.

Mrs Cobb had the unenviable task of developing the breed standard, setting up a breeding program, getting other interested breeders involved and of course the honor of naming the breed.

---
the naming of the breed
---
Mrs Cobb named the cat breed Nebelung.
The word 'Nebel' is the German word for fog (mist) and Russian 'Nebo' for sky or heaven.
The Nebelung has a blue coat with silver tipping that gives the fur a luminous misty aura - this could possibly be the secret behind the name.
Another school of thought is that the breed name was derived from the epic German poem called the 'Nibelungenlied' (translated: Song of the Nibelungs).
Siegfried was named after the hero, a dragon slayer and Brunhilde was named after Iceland's Queen, Brünhild, also a character from the poem and the love interest of Siegfried's King, King Gunther.

---
a tragic ending
---
Sadly, Siegfried and Brunhilde would not live long enough to enjoy success as the founding cats.
They both died in the late 1980's.
Brunhilde died of unknown causes whilst Siegfried died an undignified death - he was run over by a motor vehicle.
---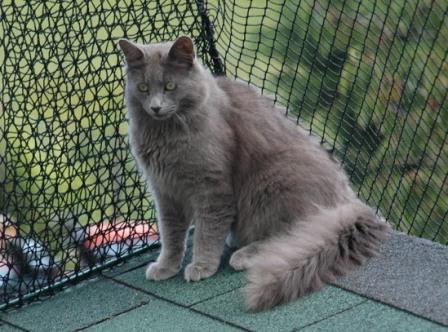 ---
registry recognition
---
The Nebelung cat breed is recognized by TICA (The International Cat Association) and WCF (World Cat Federation).
At this stage, the CFA (Cat Fanciers' Association) and the Federation International Feline do not recognize the breed,  but things change all the time.
The GCCF (Governing Council of the Cat Fancy) registered the breed in late  2011.
This longhaired blue cat is a rare breed, owned by a lucky few.

---
Related Pages:

---
Top of Nebelung Cat Page
Return to Types of Cats