American Wirehair Cat
History and Origin
The American Wirehair cat origin started with a cat called Adam!
The year was 1966, the place, Verona, New York State. The event - two free-breeding barn cats (domestic shorthair) produced a litter of 6 kittens.
---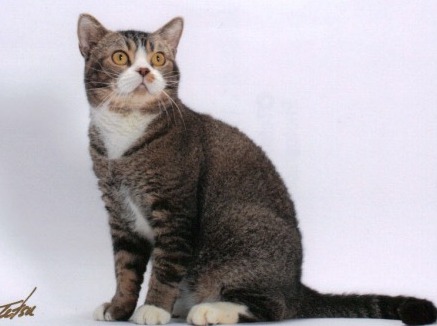 American Wirehair picture features Alex, a brown ticked and white male.           Photo ©Tetsu Yamazaki and Dawn Skupin of Stedam Cattery, Michigan
---
This litter was special; some of the kittens were born with coarse, crimped coats - signifying North Americas' first all-American rexed-type cats.
Sadly, only two kittens survived a weasel attack - a normal coated female and a red and white rex-type male.
The farmer was fascinated with this unusual kitten and sought the advice of her neighbor, Joan O'Shea.
Mrs O'Shea bought both kittens - she named the normal coated female, Tip Toe of HiFi and the male was named Council Rock Farm Adam of HiFi.
Mrs O'Shea started a selective breeding program - Adam was bred with Tip Toe - the result of this union - more coarse, prickly-coated kittens.
This confirmed that the mutation was in fact the result of a spontaneous mutation of a dominant gene. (A mutation of this nature was uncommon and had not been reported anywhere else but the US at that time).
To avoid excessive in-breeding and to provide what is known as outcross vigor, American Shorthair cat breeds were used as an outcross to further develop the breed.
By 1967, the CFA accepted the American Wirehair and by 1978 it received championship status.
Shortly after this, these somewhat 'different cat breeds' were exported to both Germany and Canada - signifying breed recognition.
The cat breed of today differs from Council Rock Farm Adam of HiFi - today they resemble the American Shorthair, the main differentiator been the unusual coarse, crimped coat.
Whilst still relatively rare cat breeds, they are bred and shown in France and Japan.
Breeding is a challenge as kittens are often born with straight or long hair - both do not comply with the breed standard.

---
Related Pages:
American Wirehair Kittens for Sale

---
Top of American Wirehair Cat Page
Return to Types of Cats