Egyptian Mau Cat Pictures
Black, Bronze and Silver Cats and Kittens
These Egyptian Mau cat pictures feature the three main coat colors of the only naturally spotted cat.

The photos showcase stunning adult cats and the cutest Egyptian Mau kitten photos.
---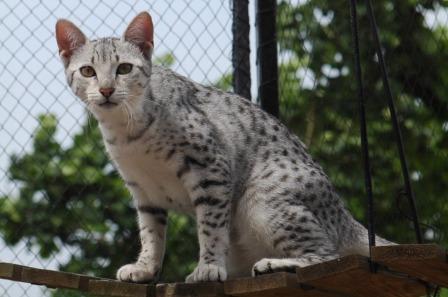 The silver Egyptian Mau cat photo above is a fine example of the most popular color.

---
---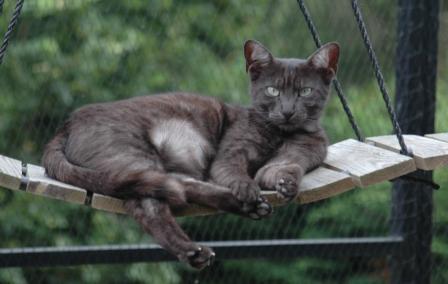 Above is an example of the black or smoke Egyptian Mau cat. The black cats are generally not show cats, but are ideal companion cats and are used in breeding programs.

---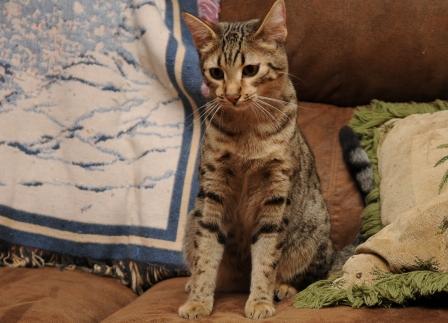 A rare and stunning bronze Egyptian Mau cat

---
---
As our Egyptian Mau cat photos indicate, they are active, athletic and playful cats.
They do bore easily and hate to be confined, so apartment living is possibly not ideal for them.
If you are able to create an indoor or outdoor 'play area' filled with trees, scratching posts and toys they will be in their element.
---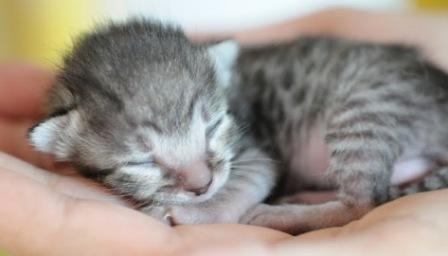 the beauty of a newborn kitten

---
Cute Egyptian Mau kitten having a snooze

---
Egyptian Mau cat mother and kittens

---
Our thanks to © Bernard Boucher of Chatterie Le Fort del la Bosse Marniere in France for all his magnificent Egyptian Mau cat pictures featured on this page.

---
---
---
These gorgeous kittens are wearing colored neck bands to assist with recognizing them. It probably also signifies that they have found forever homes.

---
Adult Smoke Egyptian Mau with silver kittens

---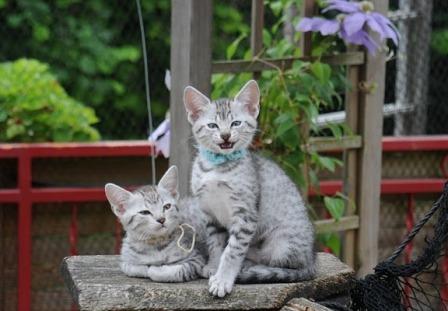 ---
---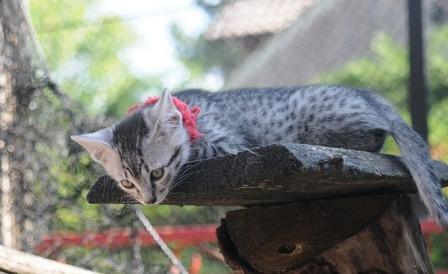 ---
---
---
---
---
---
Egyptian Mau kittens can be hyperactive and may be a little rough, bordering on aggressive when they play.
It's important to train them early that this type of behavior is unacceptable.
These cute little kittens are very sociable and gregarious and love to be around their owners - solitude is just not for them!

---
We love this image of a kitten that appears to be 'laughing'.

---
If you have decided that this beauty if for you, then we recommend that you visit the profile on the Egyptian Mau cat.
It includes great information for any potential cat owner - facts about diet, health, grooming, ideal home, life span and more. It also touches on the history and origin of this naturally spotted cat breed.

---
Related Pages:
---
Top of Egyptian Mau Cat Pictures Page
Return to Cat Photo