Siamese Cat Names
Names Inspired by the Orient
Are you at a loss for Siamese cat names for your new kitten or cat? Stop and look no further - we have hundreds of names for cats and one special one for your kitty.
The Siamese cat originates from Thailand, so you may want to consider beautiful names inspired by the land of their origin. Names like Mali (flower), Phailin (sapphire), Somsin (sacred) or Chai (victory). The Siamese cat is a natural cat breed and one of the oldest and most recognized breeds in the world. The breed has evolved over the years but the one thing that has remained constant is its beautiful blue eyes and stunning pointed coat.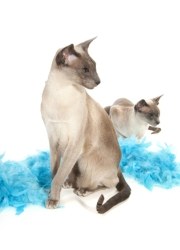 It's not necessary to give your cat an exotic name. You may decide on names that describe this cat's physical traits - names like Sleek, Slinky, Blue, Iris, Azure, Indigo or Skye may tickle your fancy.
The Siamese cat names below were inspired by Chinese boy and girl names. We 'traveled' to the Far East in search of perfect Oriental cat names for your beautiful Siamese cat. Japanese names are also ideal for naming your new Siamese kitten.
| | |
| --- | --- |
| BOY Cat Names | GIRL Cat Names |
| Chinese | Chinese |
| Cai (talent) | Ai (love) |
| Chang (prosper) | An (sedate) |
| Dao (moral) | Fan (mortal) |
| De (virtue) | Fei (nimble) |
| Gao (tall) | Jie (noble) |
| Guo (country) | Lan (orchid) |
| Ji (rescue) | Li (pretty) |
| Jia (family) | Ling (agile) |
| Jian (healthy) | Mei (beautiful) |
| Jin (progress) | Niu (girl) |
| Kai (open) | Pin (integrity) |
| Kong (spacious) | Qing (blue sky) |
| Li (strength) | Shu (kind) |
| Liang (bright) | Wen (knowledge) |
| Ting (clan) | Xia (halo) |
| Xiao (laugh) | Xiu (beautiful) |
| Xue (learning) | Xue (snow) |
| Ye (family property) | Ying (clever) |
| Yong (persistent) | Yue (moon) |
| Zheng (upright) | Yun (clouds) |
| Zhi (aspire) | ZhenZhen (precious) |
| Zhong (heavy) | Zhuang (dignified) |
| | |
| --- | --- |
| Japanese Cat Names | Japanese Cat Names |
| Daiki | Akemi |
| Daisuke | Chiyo |
| Hiroshi | Fumiko |
| Isamu | Hisako |
| Kenta | Hiroko |
| Kiyoshi | Kana |
| Makoto | Kazuko |
| Manabu | Keico |
| Masao | Kumiko |
| Noaki | Kyouko |
| Osamu | Mai |
| Saburou | Mami |
| Susumu | Mayuni |
| Tadashi | Megumi |
| Takumi | Misaki |
| Yutaka | Nanami |
| Yuuka | Yumiko |
If you prefer a less exotic name for your Oriental cat, then visit the list of names featured below to find your Siamese cat name:
---
Related Pages:
Female Cat Names - names listed from A - J
Female Cat Name - names listed from K - Z
Male Cat Names - Lists from A to J
Boy Cat Names - Lists from K to Z
Names for Cats - a selection of unusual names for cats
Unique Cat Names - cat names with a difference
---