Skookum Cat
A Miniature Cat Breed
---
Cat History
---
The Skookum Cat combines the unusual short legs of the Munchkin cat and the beautiful curly coat of the La Perm cat. Roy Galusha is credited for initiating the creation of this small cat breed in the 1990's. Fellow breeders in the United States soon joined him and before long cat breeders across the world developed breeding programs.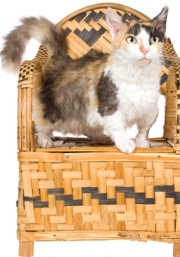 ---
Features and Characteristics
---
These are affectionate, sociable, active and lively little cats. This dwarf cat combines the characteristics of the Munchkin and La Perm to produce a cat with the following characteristics:
| | |
| --- | --- |
| Body | Their bodies could be described as moderately cobby or stocky with solid bones and muscles and a somewhat rounded chest. It is preferable that the body not be elongated. |
| Legs | Their legs are short and typical of the Munchkin - the lower and upper part of the fore- and hind legs should be equal in length. The back legs are generally longer than the forelegs. |
| Head | The Skookum's head is shaped like a modified wedge and the contours of the head are rounded. Their eyes are very large and expressive and the shape of the eyes is described as walnut-shape. |
| Coat | Their curly coat is strongly influenced by the unusual La Perm coat. Its coat could be described as light, soft and airy in texture and can have ringlets, waves or curls. The coat is certainly not thick, but it does stand away from the body. The Skookum comes is long and short hair varieties. The Skookum cat always has curled eyebrows and whiskers. |
This cat is considered a dwarf cat breed and is a new and rare cat breed. To establish the status of the breeds registration and recognition in your country, we would suggest that you visit our All Breeds of Cat page for a list of international cat associations.
We were quite interested in the source of the cats name and did a search of the word which would appear to have a number of meanings:
According to the English dictionary it means: highest quality; marked by strength and power, the best, the ultimate, brave, tough, durable, trustworthy and reliable
Skookum is a word (or rather jargon) used by the Chinook tribe of the Northwest Pacific region of the USA. The word means strong brave, tough and trustworthy
It is also defined as an evil spirit or woodland monster. We doubt that this was the founder breeder's intention and tend to go with the definitions above.
---
Health and Grooming
---
The Skookum cat is a medium to low maintenance cat breed.
They are generally healthy and robust cats but there may be genetic issues related to their pseudo-achondroplasia (short-limb dwarfism with normal size head) - i.e. lordosis (exaggerated inward curvature of the spine) and pectus excavatum (a deformity that causes a funnel chest or sunken chest). These conditions can be avoided or 'bred-out' provided a good breeding program is followed.
---
Related Pages
Dwarf Cats - adorable miniature cats
---